HEIDENHAIN Angle Encoders have series of RCN, ROC, ROC, and ROD. We have Heidenhain RNC 2000 angle encoders in warehouse and can provide our customers with fast delivery.
RCN 2000 Absolute angle encoders for high productivity.
Features:
- System accuracy of ±2" / ±4"
- Integrated stator coupling
- Hollow through shaft with ∅ 20 mm / ∅ 35 mm
- Position values per revolution: 26 bits / 28 bits
- High permissible shaft speeds
- Integrated temperature sensor
- Interfaces: EnDat 2.2, Fanuc Serial Interface αi, Mitsubishi high speed interface
Available with functional safety
Technical Data: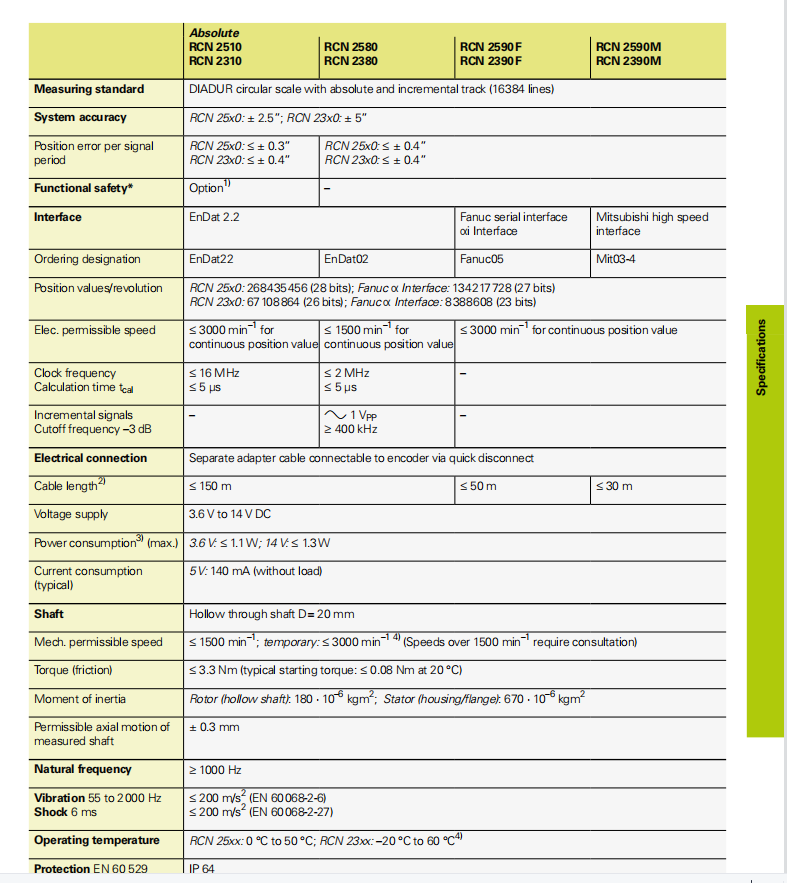 HEIDENHAIN RCN absolute angle encoders are with high permissible shaft speeds up to 3000 rpm and also with high line count of 16,384 lines and excellent signal quality of high accuracy. For RCN series encoders even liquid contamination and condensation have very little effect on the scanning signals. The encoders have reliable scanning when application and can avoid disturbances in the machining process caused by encoder contamination.
HEIDENHAIN RCN 2000 Absolute Angle Encoder
| | | |
| --- | --- | --- |
| 751364-01 | RCN 2590F | 16384 7KS12 EK T 2.5 .. 23C 53A 64 01 .. D Fanuc05 37 01 |
| 667786-01 | RCN 2580 | |
| 751365-01 | RCN 2390M | 16384 7KS12 EK T 5.0 .. 23C 53A 64 01 .. D Mit03-4 37 01 |
| 667785-01 | RCN 2380 | 16384 |
| 358655-01 | RCN 226 | 16384 |
| 362579-04 | RCN 226 | 16384 |
| 362579-06 | RCN 226 | 16384 |
| 533110-13 | RCN 226 | 16384 |
| 533111-01 | RCN 226 | 16384 |
| 533117-01 | RCN 223F | 16384 |
| 533117-03 | RCN 223F | |
| 309928-08 | RCN 220 | 16384 03S17-0D K 3.00 02 23C19 64 01 .. .. D Fanuc01 05 |
| 309928-11 | RCN 220 | 16384 03S17-58 K 1.00 02 23C19 64 01 .. .. D EnDat01 05 |
| 533120-01 | RCN 220 | |
| 533120-08 | RCN 220 | 16384 |
| | | |