Servoproportional directional valves
proportional valves in sleeve execution with position transducer and zero spool overlap for best performances in any position closed loop control. The integral digital electronic driver
performs the valve's hydraulic regulation according to the reference signal and assures valve-to-valve interchangeability thanks to the factory presetting
Servoproportional directional valves in sleeve execution
digital
,direct operated, with position transducer and
zero spool overlap with fail safe
, rugged design
Servoproportional directional valves proportional valves in sleeve execution with position transducer and zero spool overlap for best performances in any position closed loop control. The integral digital electronic driver performs the valve's hydraulic regulation according to the reference signal and assures valve-to-valve interchangeability thanks to the factory presetting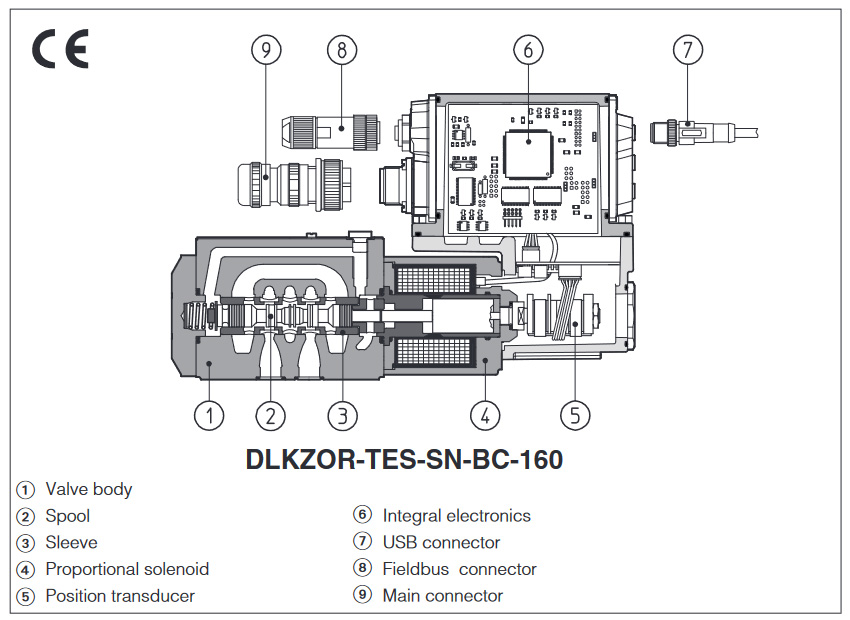 DLHZO-TEB, DLHZO-TES
DLKZOR-TEB, DLKZOR-TES
Servoproportional direct operated digital proportional valves in sleeve execution with position transducer and zero spool overlap for best performances in any position closed loop control.


The integral digital electronic driver performs the valve's hydraulic regulation according to the reference signal and assures valve-to-valve nterchangeability thanks to the factory presetting.


They are available in TEB basic execution with analog reference signals and USB port for software functional parameters setting or in TES full execution which includes also optional alternated P/Q controls and fieldbus interfaces for functional parameters setting, reference signals and real-time diagnostics.


Digital TEZ (see tech. table FS230) version integrates the closed loop axis control functions, while TEB and TES versions can be used in combination with remote Z-ME-KZ digital axis controller (see tech. table G340).
Size: 06 and 10
Max flow: 70 and 160 l/min
Max pressure: 350 bar (DLHZO)
315 bar (DLKZOR)