OstBridge 6JM three-phase synchronous servo motors are developed for high end applications in which the performance for positioning precision, machine dynamics or predefined torque behavior are demanded. They are widely applied in such industries as plastic, textile, robot, electric power, printing, packaging, metalworking, food and beverage, and paper branches.
Total solutions from one source, this requires the right components as well as the right configuration for different applications. The 6JM three-phase synchronous servo motors portfolio offers very good scalability and therefore makes it possible to easily meet such conditions as reducing the variety of parts, and guaranteeing a minimum of service and maintenance work.
Product portfolio:
High dynamics synchronous servo motors (6JM)
Large inertia synchronous servo motors (6JMR)
Direct drive synchronous servo motors (6JMD)
High efficiency and dynamic performance
High-end manufacturing machines require servo motors with high dynamic performance. This means that motors should not only have high-rated speeds, but also an extremely low moment of inertia. With their long and sleek form,
6JM motors are ideally suitable for those types of applications. In addition, conventional air cooling ensures easy integration into all types of motors.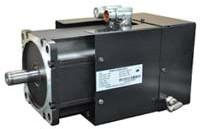 General Description
The 6JM series stands for permanent magnet servo motors. They are very compact, and light and are utilized for those applications where high dynamic performance and precise positioning are required. The main characters are summarized in the following.
Permanent magnets with NdFeB
Sinusoidal EnDat encoder or resolver as a feedback unit
Three-phase winding with star connection
Compact construction and low weight
Minimum moment of inertia and excellent dynamic performance
High overload capability/peak torque
Low torque ripple
High dynamic torque at high speeds
Long life-span, all motor parts except for bearings are free of wear
Direct diversion of lost power generated in the stator over the housing to the flange
Preassembled grooved ball bearings which are sealed on both sides and greased
Scalable motor types with stall torques ranging from 0.75 Nm to 390Nm
Connection using two high end circular plugs
Embedded Parameter Chip
Servo Motors Order Key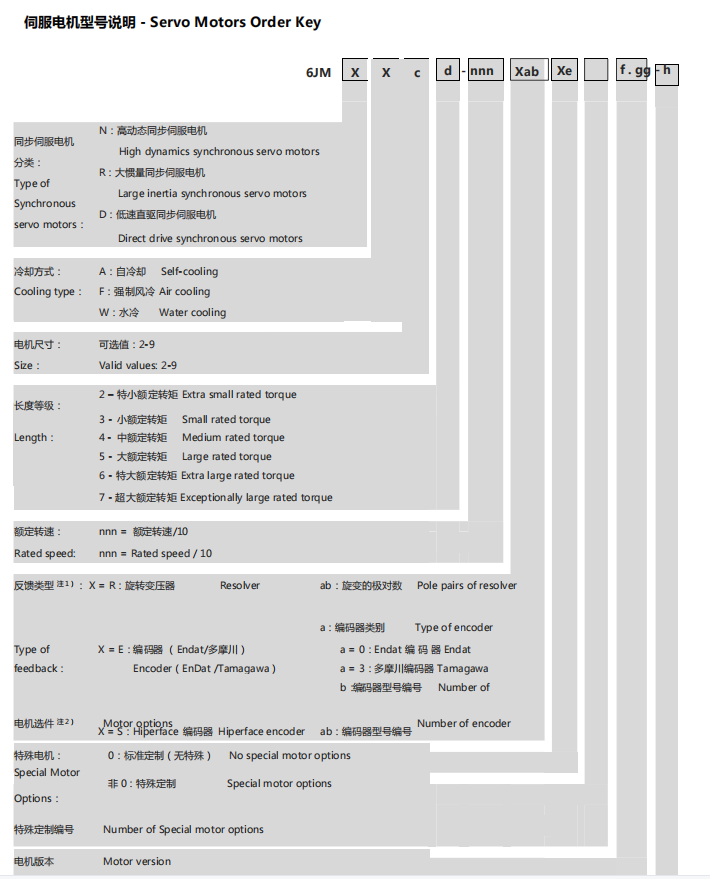 Note 1): Type of feedback
The 6JM three-phase synchronous motors are available both with EnDat, Hiperface encoders, and resolvers.
EnDat Encoder
EnDat is a standard product developed by Johannes Heidenhain GmbH, covering the advantages of absolute and incremental position measurement with a read/write parameter memory integrated for absolute position measurement (absolute position is read continuously). The homing procedure is usually not required. When necessary, a multi-turn encoder (4096 revolutions) will be installed. For cost reasons, a single-turn encoder and a reference switch can also be used. In this case, the homing procedure is needed. With the sinusoidal incremental signal and the fine resolution in the EnDat module, very high positioning precision is achieved even at medium signal frequencies.
Technical data
Different types of EnDat encoders can be used depending on the requirements:

Hiperface Encoder
HIPERFACE is an innovative universal interface from SICK STEGMANN GMBH. HIPERFACE®: only one interface is required on the drive for all applications and only one type of signal cable between the drive and feedback system is needed.
HIPERFACE ® motor feedback systems are a mix of incremental encoders and absolute encoders and combine the benefits of both encoder types. Initially, the absolute value is only formed when the device is powered up and is communicated to the external counter in the controller via the bus-enabled RS 485 parameter interface. From this absolute value, the controller continues to count incrementally using the analog sine/cosine signals. The use of highly-linear sine and cosine signals achieves the high resolution required for speed control (arctan formation within the controller). However, the signal frequencies to be transmitted remain relatively low. For instance, a unit with 512 periods per revolution, operating at a very high speed of 12,000 RPM, only generates an output frequency of 102.4 kHz which can be easily transmitted over a long distance. HIPERFACE ® retains only one interface with 8 lines, for reduced cabling work.
Technical data
Different types of Hiperface encoders can be used depending on the requirements:

Resolver
These resolvers are fed with a single sinusoidal signal (reference signal) and deliver two sinusoidal signals as the result. The amplitude of these signals changes with the angular position (sine or cosine form).

Note 2): Motor Options
The 6JM three-phase synchronous motors can be delivered:
with or without oil seal
with or without holding brake
with a smooth shaft or a keyed shaft
different connection
- More technical details, please refer to the attached date sheet.
OstBridge 6JM Three-Phase Synchronous Servo Motors are Flexible and Highly Dynamic. We focus on Solutions in Industries of Plastics, textiles, robotics, power, printing, packaging, metal processing, food and beverage, paper, building materials, and logistics industries.
Our OstBridge 6JM series of three-phase synchronous motors is specially designed for high-performance project applications. Today, it has applications in the production of consumer goods and in the plastics, packaging, metal, beverage, and raw material processing industries. A product series provides a complete solution - it needs to provide suitable modules and suitable configurations according to the application environment. The complete product line of three-phase synchronous motors can meet various application requirements, such as minimum components, simple maintenance Minimization of performance, and installation space. Feedback systems specially tailored to your needs The 6JM series of three-phase synchronous motors include different encoder series. The standard equipment is a Heidenhain encoder. According to the different needs of the project application, customers can also choose between ordinary resolution and high-resolution encoders, both of which are available in multi-turn models, which can ensure the reset process during operation. In addition, no additional measuring systems are required on the machine. Absolute encoders do not require batteries, thus eliminating maintenance work. The three-phase synchronous motor also has a resolver, which reduces the requirements for machine accuracy and speed. The built-in parameter chip is in the three-phase synchronous motor 6JM series, and all relevant mechanical and electronic information and data are stored in the encoder. This means that the user does not need to set the servo drive in the field, as long as the encoder is connected to the servo drive and the electronic part is powered on, the motor will be automatically recognized. The motor then sends the rated and limit values to the servo drive, which then automatically derives the current limit and motor control parameters required for safe motor operation. The user only needs to optimize the speed and position controllers.