PARKER 110A Low Speed High Torque Hydraulic Motors
Description:
PARKER Hydraulic 110A Series Torque Motors belong to Parker LSHT Torqmotors™ and Nichols™ Motors. This series Motor has high performance with the high-performance motor.
The Parker 110A series motor is a highly efficient and reliable hydraulic motor with an advanced piston design, capable of delivering high power and high efficiency power output.
Fetuears:
This motor features a high-pressure, high-speed design with a high power density and torque density, providing greater power output in a smaller size and weight.
The motor's advanced plunger design and optimized internal runner structure provide high conversion and mechanical efficiency, resulting in lower energy consumption and longer service life for the same power output.
A wide torque range to suit a wide range of operating conditions and can be customized to suit the actual application.
With high speeds up to 8000 rpm for applications where high-speed rotation is required.
OstBridge team provides Parker hydraulic motors, pumps, and valves. Our customers can benefit from our large stocks in warehouse Asia and can get a fast quotation with fast delivery.
110A Low-Speed High Torque Hydraulic Motors can provide up to 5215 lb-in of torque through a one-piece solid fixed axis shaft. This shaft design allows for full stationary spline contact between the shaft and rotor, minimizing spline contact stresses. It also allows the shaft to be extended through the rear cover for mounting parking brakes, auxiliary drive functions, or encoders for speed readout or closed-loop control. Low internal pressure drop means high mechanical efficiency and higher flow capability.
Technical Data: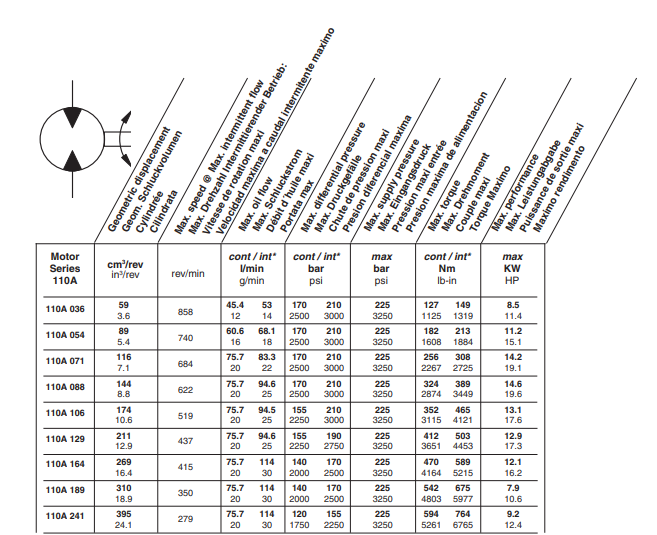 Applications:
Industrial automation and control: The Parker 110A motor can be used in a variety of industrial automation and control applications such as automated machines, conveyors, robots, processing equipment, etc.
Automotive industry: Parker 110A motors are used in motor drive systems in the automotive industry, such as drive systems for electric vehicles, braking systems, power steering systems, etc.
Aerospace: Parker 110A motors are used in flight control systems, navigation systems, satellite control systems, etc. in the aerospace industry.
Medical devices: Parker 110A motors are used in various medical devices such as surgical instruments, ventilators, artificial hearts, artificial limbs, etc.
For details about the technical data and the applications, please see the attached PDF.
PARKER 110A 112A Hydraulic Motors List from Warehouse:
| | |
| --- | --- |
| ITEM CODE | PART NUMBER |
| 112A-071-AM-0-R1-F | 112A-071-AM-0-R1-F |
| 112A-071-AM-0-R1-F | 112A-071-AM-0-R1-F |
| 112A-071-AT-0 | 112A-071-AT-0 |
| 112A-106-AT-0-F | 112A-106-AT-0-F |
| 112A-088-AT-0-F | 112A-088-AT-0-F |
| 112A-106-AT-0 | 112A-106-AT-0 |
| 112A-088-AT-0 | 112A-088-AT-0 |
Parker Hannifin is a leading global motion-control company and their hydraulic products are widely used in industry and mobile hydraulic areas. We have a project of Port Machines and use 110A Series Torqmotors for application. And the compact size and four-port versatility make the 110A Series a popular fuel filter/ water separator for small engine applications.