Introduction of PARKER Hydraulic Saw Motor
Hydraulic Saw Motor are widely used in Forestry and Logging Industry. Parker Hannifin offers an extensive range of components suitable for forestry machines and can assist with an optimal technical solution to obtain the most costefficient system. Based on many years of experience from forestry applications, product development has been focused on helping manufacturers obtain the best possible performance from their machines. Many of our products have, therefore, been developed in direct and close cooperation with customers. Parker Hannifin holds a leading position when it comes to product and application knowledge, dedicated to serve the forestry machine market.
PARKER components such as pumps, cylinders, motors, directional control valves, remote controls and electronic equipment for most of the hydraulic functions on any forestry machine.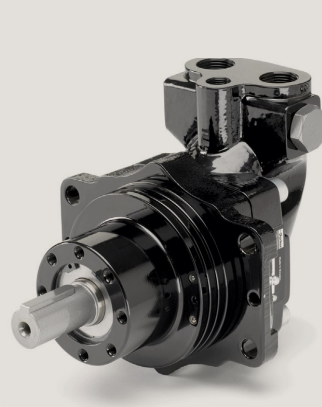 Main Series: PARKER F11/F12 Motors.
Series F11/F12 motors Primarily due to the 40-degree bent-axis design, spherical, lightweight pistons (with laminated piston rings) and timing gear, extremely high speeds can be allowed, and the reliability is not affected even by lowtemperature start-ups. have proven extremely reliable in demanding applications such as bar (chain) saw drives.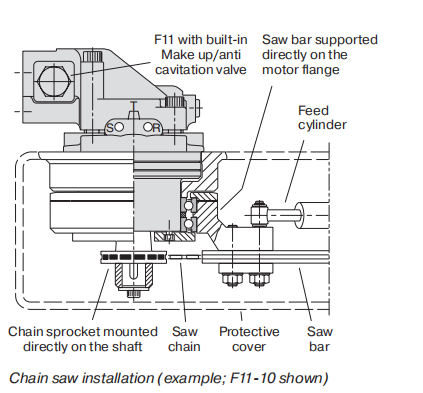 In order to further enhance the saw function and, at the same time, reduce weight, cost and installation dimensions, Parker has developed a motor that is specifically dedicated to bar saws. Based on the well-proven F11/F12 design, the saw motor permits saw bar bearings to be mounted directly on the motor housing, and the chain spur gear installs on the motor shaft without the need for additional bearings.The saw flange has integrated ports for auxiliary functions.
Benefits of the Saw Motor:
Much more compact installation
Same mounting flange installation
dimensions for all sizes
Simple installation – lower cost
Sturdier saw bar support
Lower overall weight
Saw Motor Versions:
The saw motor is available in eight sizes, 6, 10, 12, 14, 19, 30, 40 and 60 cm3/rev. Motors between 6 to 30 cm3/rev are equiped with an integrated, large capacity make-up (anti-cavitation) valve. The valve reduces the risk of cavitation when the pump supply is suddenly
shut off while the motor is still running at high speed. A counter-pressure of around 10 bar (measured in port B in the exemplified schematic below) is recommended.
A high speed F11 or F12 motor could be optimized with a Power Boost™, which means less fluid friction and oil compression. This can reduce power losses by up to 5 kW. The improved efficiency generates less heat, reducing the need for cooling and consequently improves fuel consumption.
Parker Power Boost is available for size F11-006, -010, -012, -014, -019 and F12-030.

Hydraulic Fluids for Saw Motor:
The saw motor data shown in the specification are valid when operating on a high-quality, mineral-based fluid with a minimum of contamination. Hydraulic fluids type HLP (DIN 51524), ATF (automatic transmission fluid), and API type CD engine oils are suitable.
Long saw motor life can be expected if fluid cleanliness meets or exceeds 'ISO code 20/18/13' (according to ISO 4406). Under normal operating conditions, a filtration level of 10 μm (absolute) is recommended.