PARKER Piston Pump PVP Hydraulic Pump
Description:
PARKER Hydraulic Variable Volume Piston Pumps are adjustable xaximum Volume pumps. This series pump has different control options and widely used in industry hydraulic areas.
OstBridge team provides Parker hydraulic motors, pumps, valves. Our customers can benefit from our large stocks in warehouse Asia and can get a fast quotation with fast delivery. We have Parker PVP pumps in stocks and can provide customers fast delivery.
Features:
- High Strength Cast-Iron Housing
- Fast Response Times
- Two Piece Housing For Ease of Service
- Metric Pilot, Shaft and Ports Available
- Replaceable Bronze Clad Port Plate
- Thru-Shaft Capability
- Low Noise Levels
- Replaceable Piston Slipper Plate
PVP pumps size Series Sizes 60 - 140 for reference: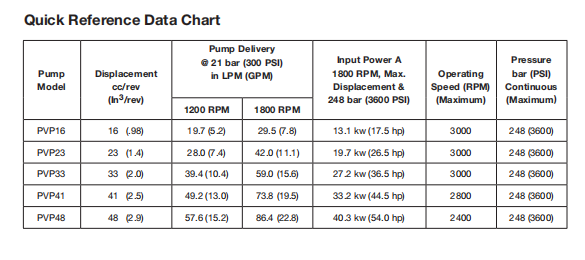 For details about the technical data and the applications, please see the attached PDF.
PARKER PVP Variable Volume Piston Pump Products:
| | |
| --- | --- |
| ITEM CODE | PART NUMBER |
| PVP3336R2H21 | PISTON PUMP |
| PVP16369R212 | PISTON PUMP |
| PVP1620BRM12 | PISTON PUMP |
| PVP16304R26A212 | PISTON PUMP |
| PVP33369R221 | PISTON PUMP |
| PVP3336C9R21 | PISTON PUMP |
| PVP1620B4R26A112 | PISTON PUMP |
| PVP1630B4RP12 | PISTON PUMP W/PAIN |
| PVP1630CR212 | PISTON PUMP |
| PVP1636B2RM12 | PISTON PUMP |
| PVP1636B9R2A12 | Axilkolbenpumpe 16 cm³/U p max |
| PVP1636C2R212 | PISTON PUMP |
| PVP1636C4L26A412 | PISTON PUMP |
| PVP1636K9R9A4V12 | PISTON PUMP |
| PVP1636RCP12 | PISTON PUMP W/PAIN |
| PVP1636R2H12 | PISTON PUMP |
| PVP1636R2MV12 | PISTON PUMP |
| PVP16362R2P12 | PISTON PUMP |
| PVP2310K9R9B321 | PISTON PUMP |
| PVP23102R221 | PISTON PUMP |
| PVP2330BR21 | PISTON PUMP |
| PVP2336K9R21 | PISTON PUMP 23cc/REV, 3600P |
| PVP2336R2M21 | PISTON PUMP |
| PVP2336R2V21 | Axilkolbenpumpe 23 cm³/U p max |
| PVP23369RM21 | PISTON PUMP |
| PVP23369R29B321 | PISTON PUMP |
| PVP3320RA21 | PISTON PUMP |
| PVP3330R2M21 | PISTON PUMP |
| PVP33302R2A21 | PISTON PUMP |
| PVP33302R21 | PISTON PUMP |
| PVP33302R6A121 | PISTON PUMP |
| PVP3336BR221 | PISTON PUMP |
| PVP3336B8LAP21 | PISTON PUMP W/PAIN |
| PVP3336B9R2A21 | PISTON PUMP |
| PVP33362RM21 | PISTON PUMP |
| PVP33362R2V21 | PISTON PUMP |
| PVP33362R21 | PISTON PUMP |
| PVP33362R6A4A21 | PISTON PUMP |
| PVP33369R2M21 | PISTON PUMP |
| PVP4120R211 | PISTON PUMP |
| PVP4136CR2A11 | Axilkolbenpumpe 41 cm³/U p max |
| PVP4136C2R6A4A11 | PISTON PUMP |
| PVP4136C9R211 | PISTON PUMP |
| PVP4136DRAP11 | PISTON PUMP W/PAIN |
| PVP4136K9RM11 | METRIC PISTON PUMP |
| PVP4136L2AV11 | PISTON PUMP |
| PVP4136R211 | Axilkolbenpumpe 41 cm³/U p max |
| PVP41362R2V11 | PISTON PUMP |
| PVP41362R6A4M11 | PISTON PUMP |
| PVP41369L2AV11 | PISTON PUMP |
| PVP4830K9L211 | PISTON PUMP |
| PVP4830RP11 | PISTON PUMP W/PAIN |
| PVP4836DRA11 | PISTON PUMP |
| PVP4836K9RA11 | METRIC PISTON PUMP |
| PVP4836K9R2A11 | Axialkolbenpumpe 48cm3/U |
| PVP48362R2M11 | PISTON PUMP |