HEIDENHAIN incremental linear encoder has series of LB 382, LF 185, LF 485, LS 100, LS 400, LS 600. We can provide HEIDENHAIN LB 382 Linear Encoders and the read head AE LB 382, AE LB 382C from our warehouse in China. We can provide our customers professional service of all the HEIDENHAIN linear encoders.
LB 382 - Incremental linear encoder with full-size scale housing
- Large measuring lengths of up to 72 m (30 m and longer upon request)
- Single-section version for up to 3040 mm
- Multi-section housing with integrated seal
- Interface: 1 VPP
Technical Data: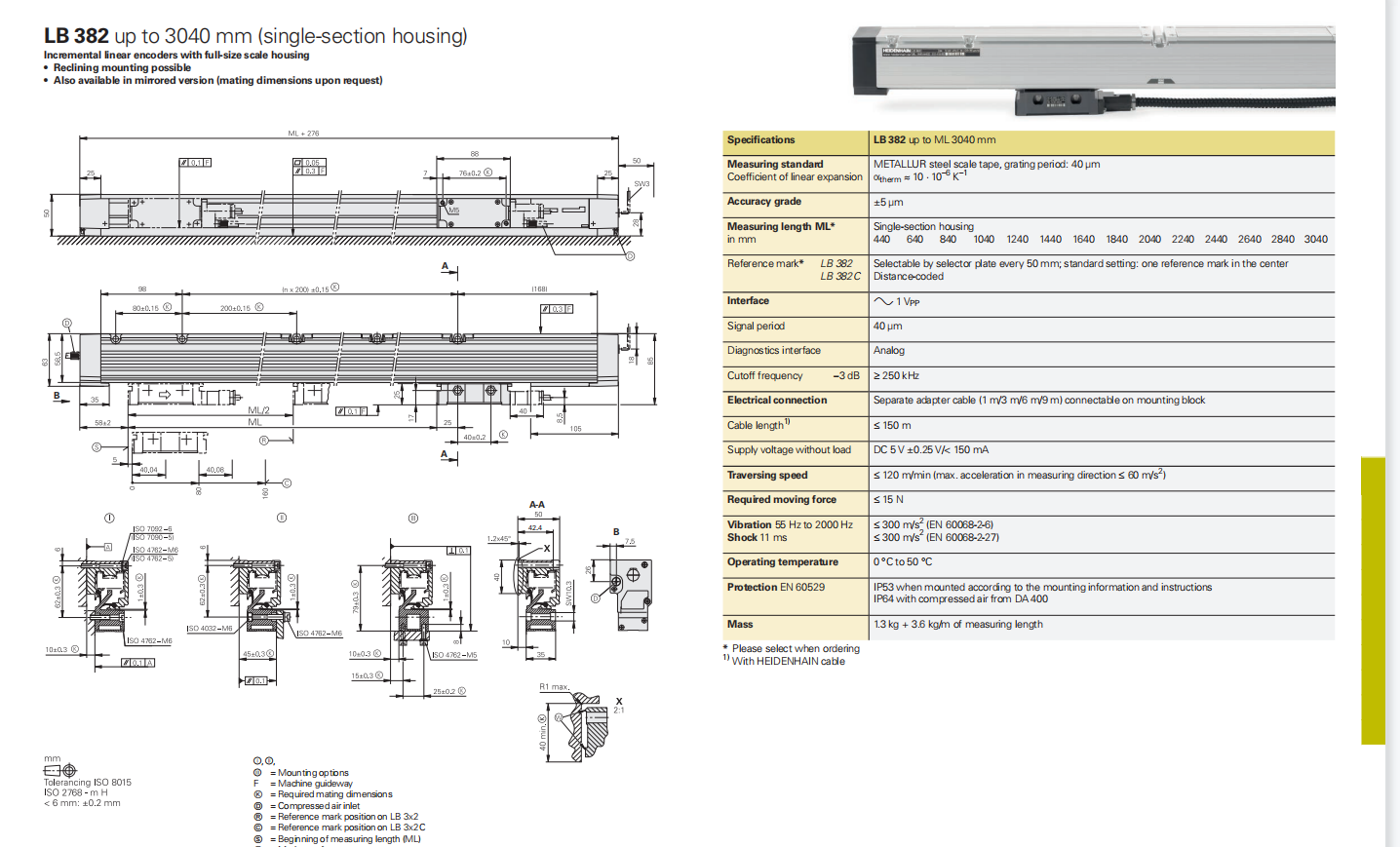 Heidenhain LB 382 series linear encoder can be up to 3 meters long with a single-section housing and up to 72 m long with a multi-section housing. With this length, the LB 382 can still guarantee high accuracy across the entire measuring length and keep excellent performance. For details please see the attached PDF datasheet.
HEIDENHAIN Incremental Linear Encoder LB382, LB382C with Read Head, some as stocks from warehouse:
| | | |
| --- | --- | --- |
| 315422-41 | LB 382C | ML11240mm |
| 315418-02 | LB 382C | 640 5.0 C002 .. N 52S12 .. 0.00 ~1Vpp 39 01 .. |
| 315418-03 | LB 382C | 840 5.0 C002 .. N 52S12 .. 0.00 ~1Vpp 39 01 .. |
| 315418-04 | LB 382C | 1040 5.0 C002 .. N 52S12 .. 0.00 ~1Vpp 39 01 .. |
| 315418-05 | LB 382C | 1240 5.0 C002 .. N 52S12 .. 0.00 ~1Vpp 39 01 .. |
| 315418-06 | LB 382C | 1440 5.0 C002 .. N 52S12 .. 0.00 ~1Vpp 39 01 .. |
| 315418-07 | LB 382C | 1640 5.0 C002 .. N 52S12 .. 0.00 ~1Vpp 39 01 .. |
| 315418-08 | LB 382C | 1840 5.0 C002 .. N 52S12 .. 0.00 ~1Vpp 39 01 .. |
| 315418-09 | LB 382C | 2040 5.0 C002 .. N 52S12 .. 0.00 ~1Vpp 39 01 .. |
| 315418-11 | LB 382C | 2440 5.0 C002 .. N 52S12 .. 0.00 ~1Vpp 39 01 .. |
| 315418-12 | LB 382C | 2640 5.0 C002 .. N 52S12 .. 0.00 ~1Vpp 39 01 .. |
| 315418-13 | LB 382C | 2840 5.0 C002 .. N 52S12 .. 0.00 ~1Vpp 39 01 .. |
| 315416-03 | LB 382 | 840 5.0 ML/2 .. N 52S12 .. 0.00 ~1Vpp 39 01 .. |
| 315416-13 | LB 382 | 2840 5.0 ML/2 .. N 52S12 .. 0.00 ~1Vpp 39 01 .. |
| 315416-14 | LB 382 | 3040 5.0 ML/2 .. N 52S12 .. 0.00 ~1Vpp 39 01 .. |
| 315416-31 | LB 382 | 4040 5.0 ML/2 .. N 52S12 .. 0.00 ~1Vpp 39 01 .. |
| 315423-01 | LB 302/382 |   |
| 315423-03 | LB 302/382 |   |
| 315423-04 | LB 302/382 |   |
| 315423-05 | LB 302/382 |   |
| 315423-06 | LB 302/382 |   |
| 315423-07 | LB 302/382 | L=800mm |
| 315423-08 | LB 302/382 | L=600mm |
| 315423-09 | LB 302/382 | L=400mm |
| 315420-04 | AE LB 382C | 40,000 CD 52S12 .. 0,00 ~1Vss 39 01 VE01 |
| 315420-03 | AE LB 382 | 40,000 RW 52S12 .. 0,00 ~1Vss 39 01 VE01 |