HEIDENHAIN Linear Encoders LF 183 now are replaced by LF 185 Series. We still have read head of AE LF 183, AE LF 183C in warehouse, and can be delivered in short time for repairment or aftersales use.
LF 185 series Features are as follows:
Incremental linear encoders with full-size scale housing
- For linear axes up to 3040 mm long
- Very high repeatability
- Very small signal periods (4 µm)
- Interface: 1 VPP
Technical Data: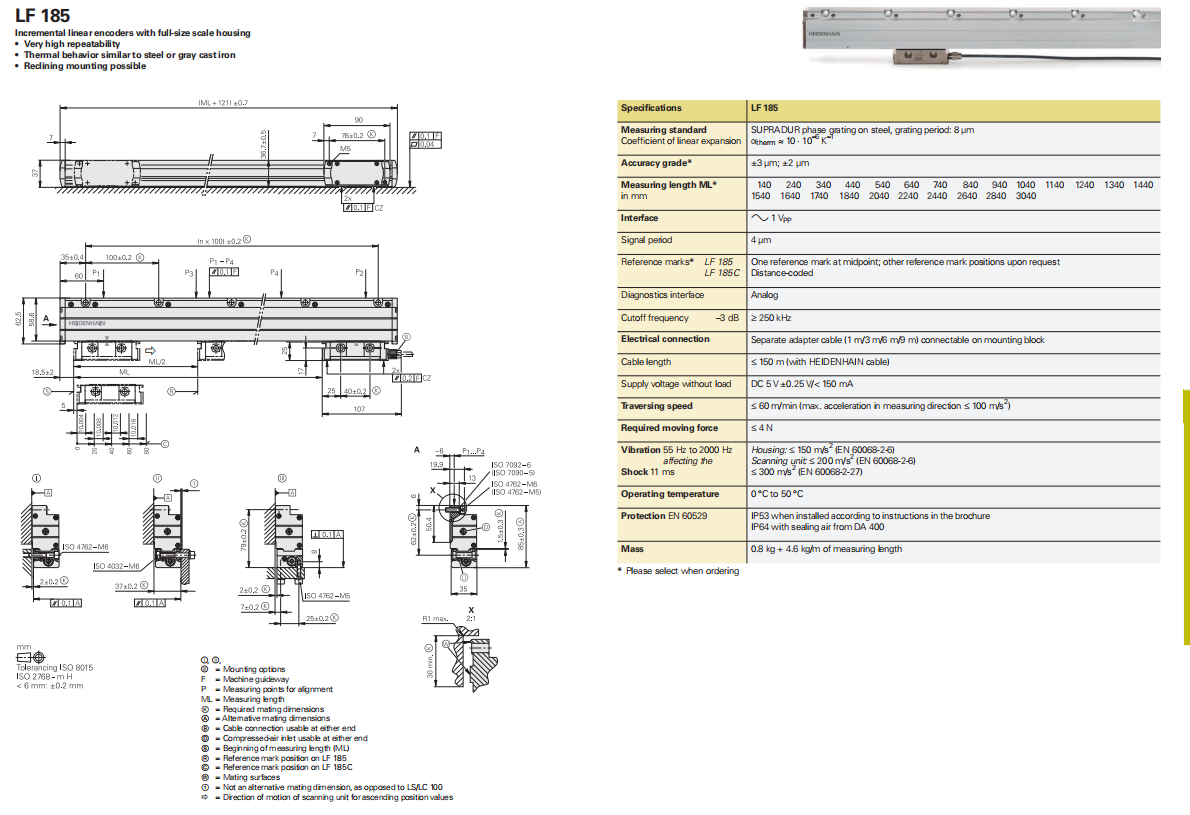 HEIDENHAIN LF183 linear encoders are out of production and we can use LF 185 for replacement.
This series of incremental linear encoders have high vibration tolerance with a long measuring length even in a harsh environment. This Series can be easily installed and is installer-friendly. For all the mounting details pls refer to the attached PDF datasheet.
HEIDENHAIN Linear Encoder LF183, LF185, LF483, LF485:
| | | |
| --- | --- | --- |
| 635327-04 | LF 485C | ML200mm |
| 635327-07 | LF 485C | 350 |
| 635327-12 | LF 485C | 600 |
| 635237-03 | LF 485C | |
| 635327-07 | LF 485C | 350 |
| 635327-12 | LF 485C | 600 |
| 635328-73 | LF 485C | |
| 635329-18 | LF 485C | 1000 |
| 635333-06 | LF 485C | |
| 635326-08 | LF 485 | ML400mm |
| 635330-09 | LF 485 | 450 |
| 355530-23 | LF 481C | ML200mm |
| 355530-26 | LF 481C | ML350mm |
| 355534-16 | LF 481C | ML900mm |
| 298187-23 | LF 481C | 200 3.0 4444 4444 B 66S12 .. 0.00 ~1Vpp 39 01 .. G10 4.000 |
| 355530-12 | LF 481C | 600MM |
| 355529-27 | LF 481 | ML400mm |
| 355529-63 | LF 481 | ML300mm |
| 635330-06 | LF 481 | ML300mm |
| 635330-06 | LF 481 | ML300mm |
| 682434-02 | LF 185C | ML840mm |
| 682434-04 | LF 185C | 440 |
| 682434-19 | LF 185C | 1040 |
| 682434-04 | LF 185C | 440 |
| 682434-08 | LF 185C | 740 |
| 682434-08 | LF 185C | 740 |
| 682434-09 | LF 185C | 940 |
| 682434-19 | LF 185C | 1040 |
| 682434-25 | LF 185C | ML340mm |
| 682433-02 | LF 185 | ML 540mm |
| 682433-09 | LF 185 | ML 840mm |
| 682433-18 | LF 185 | ML1040mm |
| 682433-26 | LF 185 | 940 |
| 682442-33 | LF 185 | 740 |
| 348226-38 | LF 183C | 1340mm |
| 348226-02 | LF 183C | ML840mm |
| 348225-29 | LF 183 | 340mm |
| 348226-08 | LF 183 | 740mm |
| 348225-02 | LF 183 | ML 540mm |
| 348225-30 | LF 183 | ML440mm |
| 348225-35 | LF 183 | ML940mm |
| 682442-33 | LF 183 | 740 |
| 345747-54 | LF 103 | ML 440mm |
| 349522-03 | AE LF 481C | |
| 349522-04 | AE LF 481C | |
| 349522-24 | AE LF 481C | |
| 346164-04 | AE LF 183C | |
| 1034939-03 | AE LF 183 | 183 8.000 RW 55S12 .. 0.00 ~1Vpp 0.00 .. .. 03 01 VE01 |