HEIDENHAIN Angle Encoders have series of RCN, ROC, ROC, and ROD. We have Heidenhain RON 200 Series angle encoders in the warehouse and can provide our customers with fast delivery.
RON 200 series
Incremental angle encoders with a compact design
System accuracy of ±2.5" / ±5"
Integrated stator coupling
- Hollow through shaft with ∅ 20 mm­
- Signal periods per revolution: up to 180 000 with integrated interpolation
- Interfaces: TTL, 1 VPP
Technical Data: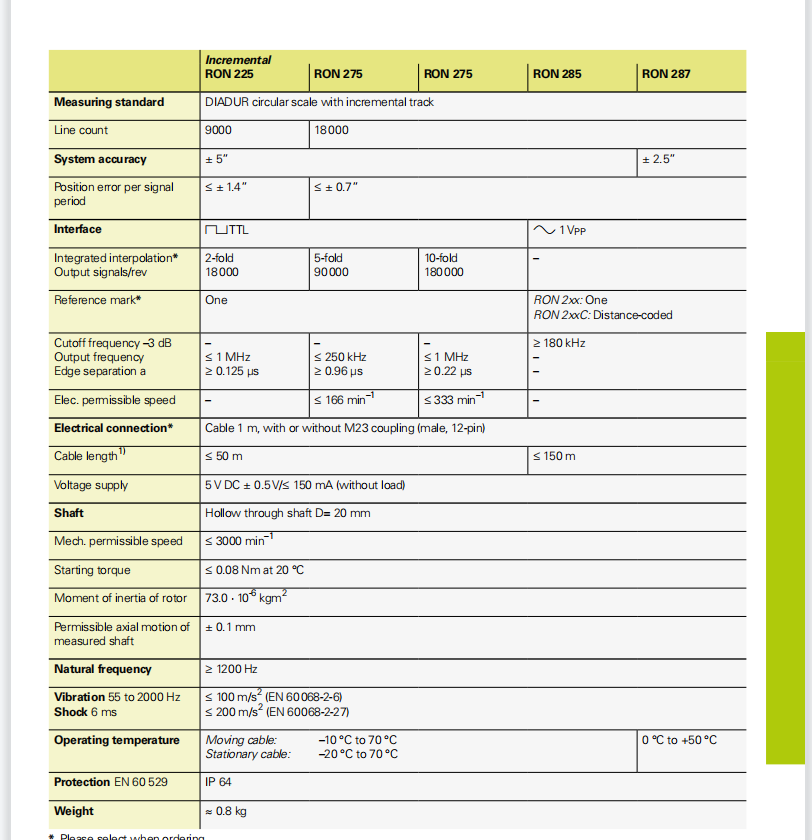 The RON 200 series angle encoders are with high accuracy and have integrated stator coupling that easily connects the measured shaft directly to the shaft of the angle encoder.
HEIDENHAIN RON 200 Series RON287, RON255, RON285 Angle Encoders stocks from warehouse:
| | | |
| --- | --- | --- |
| ID Number | Series | Description |
| 358701-03 | RON 287C |   |
| 358701-05 | RON 287C | 18000 |
| 358701-08 | RON 287 |   |
| 358699-20 | RON 285C | 18000 |
| 358699-27 | RON 285C |   |
| 286591-19 | RON 285C | 18000 02S12-03 R 3.00 02 23A19 64 01 .. .. R4 ~1Vpp 07 |
| 358699-03 | RON 285 | 18000 |
| 358699-04 | RON 285 | 18000 |
| 358699-05 | RON 285 | 9000 |
| 358699-06 | RON 285 | 18000 |
| 358699-07 | RON 285 |   |
| 286591-07 | RON 285 | 18000 03S12-03 R 1.00 02 23B19 64 01 .. .. RA ~1Vpp 07 |
| 358699-28 | RON 285 |   |
| 228400-01 | RON 255 | 18000 02S09-04 R 1.00 02 23A19 64 01 .. .. RA ~11µApp 05 |
| 358697-01 | RON 255 | 18000 |
| 358696-04 | RON 225 | 9000 02S12-03 K 3.00 02 23C53A 64 01 .. OT RV TTLx2 07 |