HYDAC HDA Pressure Sensor Transmitter - HYDAC Distributor in China
HYDAC HDA pressure sensors can be used in shipbuilding, machine tool, mobile crane, steel mill, machine construction, offshore, EX protection, laboratory applications. HDA sensor can seven be used for applications with hydrogen as a medium. Hydac extensive product range has the right pressure transmitter for your application.
HDA Series
HDA 4000, for mobile and stationary hydraulics, various interfaces (CAN, HART),For shipbuilding and offshore with approval from:
HDA 4000 / HDA 8000 for hydrogen applications
HDA 4800, extremely precise, for steel and rolling mills, laboratory applications, test benches
HDA 7000, for series applications in the industry and mobile sectors with tight installation spaces,


HDA 8000, for series applications in the industry and mobile sectors
- With ECE type approval for road vehicles
HPT 1000, for series applications in extremely small installation spaces
Technology:
Thick-layer strain gauge on ceramic membrane (low setting range)
Thin-film strain gauge on stainless steel membrane (low and high setting range)
Standard setting ranges: from 0 to 1 and 0 to 600 / 2000 bar relative pressure, depending on version
Ordering example: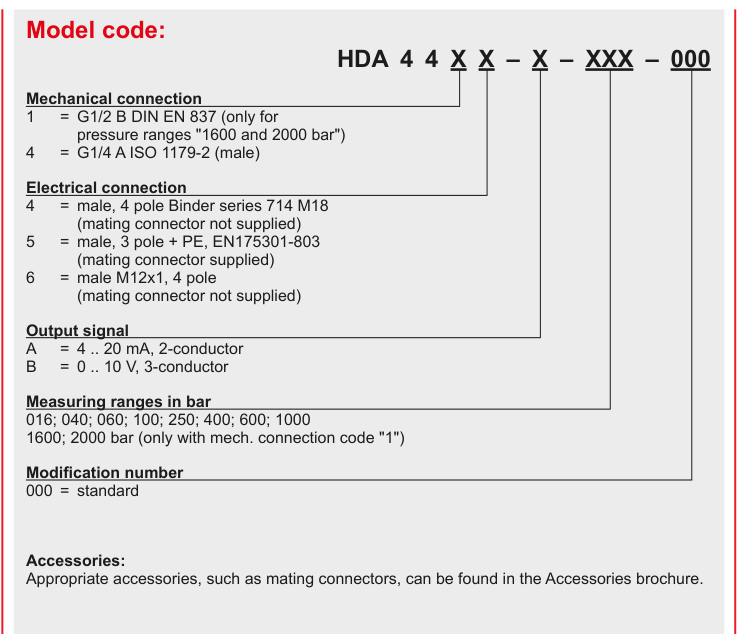 For more details about HYDAC HDA pressure sensors please see the attached PDF files or turn to us to ask through Email.