Internal Gear Pump PGH-Bosch Rexroth Pump for Sale
OstBridge team provides Rexroth hydraulic pumps, valves, motors. Our customers can benefit from our large stocks in warehouse Asia and can get fast quotation with fast delivery. We have Rexroth stock items of different series, especially the items from Rexroth factory in China. For Rexroth SYDFE internal gear pump PGH we can provide competitive prices with fast delivery.
- Frame size 4 and 5
- Component series: 3X
- Maximum operating pressure 350 bar
- Maximum displacement volume 250 cm3
Internal gear pump
– Fixed displacement
– Low operating noise
– Little flow pulsation
– High efficiency also at low speed and viscosity due to sealing gap compensation
– Suitable for broad viscosity and speed ranges
– All frame sizes and sizes can be combined with each other in any form
– Can be combined with internal gear pumps, vane pumps and axial piston pumps
– Suitable for operation with HFC fluid (seal design "W")
– Use:For fatigue-resistant drives with high power and high pressures with very large load cycle numbers, e.g. plastics processing machines, automated presses, foundry machines and other applications with accumulator charging operation.
Technical Data: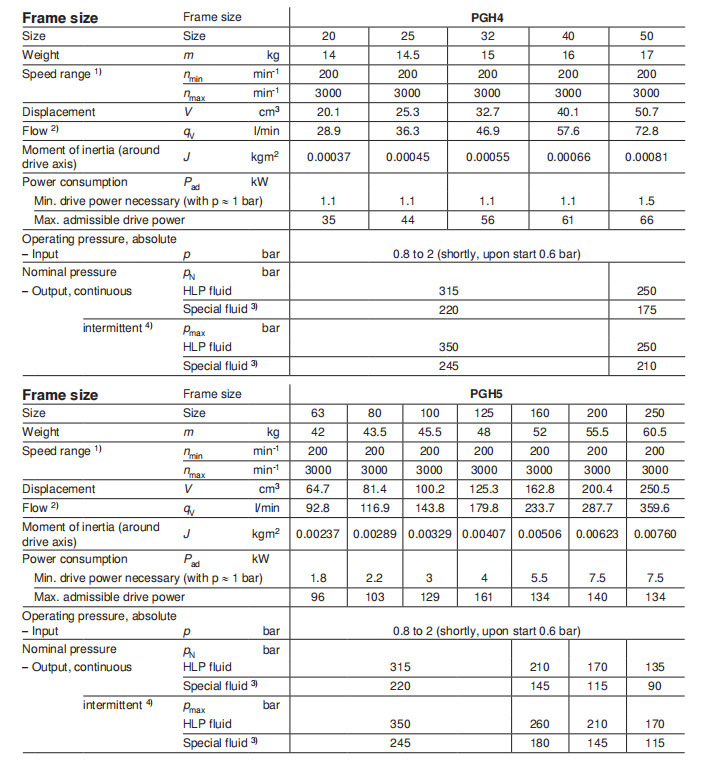 Rexroth internal gear pumps PGH are suitable for transportin liquids in industries such as petroleum, chemical, paint, dye, food, grease, medicine, etc.