PARKER PV Piston Pump Variable Volume
Description:
PARKER Hydraulic Variable Volume Piston Pumps are adjustable maximum Volume pumps.
Series PV, Pressure Compensated, Variable Volume, PV Piston Pum has different control options and is widely used in industry-hydraulic areas.
OstBridge team provides Parker hydraulic motors, pumps, valves. Our customers can benefit from our large stocks in warehouse Asia and can get a fast quotation with fast delivery.
Features:
- High Strength Cast-Iron Housing for high reliability and quiet operation
- Modular Controls for field convertibility
- Large Control Piston for fast response
- Thru-Shaft Option with 100% thru torque capability
- Multiple Pressure Control with valves mounted directly on the pump
-Pre-Compression chamber to minimize over-all system noise
Controls:
- Pressure Compensation
- Remote Pressure Compensation
- Load Sensing
- Adjustable Maximum Volume Stop
- Electrohydraulic Pressure
- Dual and Tri-Pressure Control
- Low Pressure Standby
- Horsepower Limiting
PV pumps size Series Sizes 16 - 270 for reference: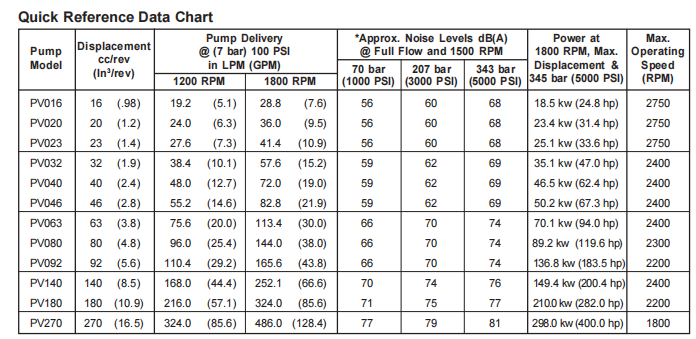 For details about the technical data and the applications, please see the attached PDF
The item number we usually for sale, any inquiry, please send us for quotation:
| | |
| --- | --- |
| ITEM CODE | PART NUMBER |
| PV016R1K1T1NMMC4747 | PV016R1K1T1NMMC |
| PV016R1K1T1NMMK4747 | PV016R1K1T1NMMK |
| PV016R1K1T1NMRC4747 | PV016R1K1T1NMRC |
| PV016R1K1T1VMR14747 | PV016R1K1T1VMR1 |
| PV020R1D3T1NMRC4747 | PV020R1D3T1NMRC |
| PV020R1K1T1NMMC4747 | PV020R1K1T1NMMC |
| PV023R1K1T1NMMC4747 | PV023R1K1T1NMMC |
| PV023R1K1T1NMR14747 | PV023R1K1T1NMR1 |
| PV023R1K1T1NMTZ4747 | PV023R1K1T1NMTZ |
| PV023R1L1T1NMMC4747 | PV023R1L1T1NMMC |
| PV023R1L1T1NMMZ4747 | PV023R1L1T1NMMZ |
| PV028R1K1T1NMMC4747 | PV028R1K1T1NMMC |
| PV028R1K1T1WMM14747 | PV028R1K1T1WMM1 |
| PV032R1K1AYNMTP4747 | PV032R1K1AYNMTP |
| PV032R1K1T1NFDV4645 | PV032R1K1T1NFDV |
| PV032R1K1T1NMMC4747 | PV032R1K1T1NMMC |
| PV032R1K1T1NMRC4747 | PV032R1K1T1NMRC |
| PV032R1K1T1NMTP4747 | PV032R1K1T1NMTP |
| PV032R1K1T1NUDR4645 | PV032R1K1T1NUDR |
| PV032R1L1T1NMMC4747 | PV032R1L1T1NMMC |
| PV040R1K1T1NDLC4747 | PV040R1K1T1NDLC |
| PV040R1K1T1NGCC4747 | PV040R1K1T1NGCC |
| PV040R1K1T1NMMC4747 | PV040R1K1T1NMMC |
| PV040R1K1T1NMRC4747 | PV040R1K1T1NMRC |
| PV046L1E1AYNMMC+PGP511B0190AA1 | 400481004969 |
| PV046L1K1T1NMMC4747 | PV046L1K1T1NMMC |
| PV046R1D1T1NMMC4747 | PV046R1D1T1NMMC |
| PV046R1K1T1NMFB4747X5830 | PV046R1K1T1NMFBX5830 |
| PV046R1K1T1NMFC4747 | PV046R1K1T1NMFC |
| PV046R1K1T1NMLC4747 | PV046R1K1T1NMLC |
| PV046R1K1T1NMM14747 | PV046R1K1T1NMM1 |
| PV046R1K1T1NMMC4747 | PV046R1K1T1NMMC |
| PV046R1K1T1NMMC4747X5934 | PV046R1K1T1NMMCX5934 |
| PV046R1K1T1NMRC4747 | PV046R1K1T1NMRC |
| PV046R1K1T1VMTK4747 | PV046R1K1T1VMTK |
| PV046R4K1T1NUDM4747 | PV046R4K1T1NUDM |
| PV046R4K1T1NUDR4747 | PV046R4K1T1NUDR |
| PV063R1K1T1N10047 | PV063R1K1T1N100 |
| PV063R1K1T1NMFB4747X5830 | PV063R1K1T1NMFBX5830 |
| PV063R1K1T1NMFC4747 | PV063R1K1T1NMFC |
| PV063R1K1T1NMMC4747 | PV063R1K1T1NMMC |
| PV063R1K1T1NSLC4747 | PV063R1K1T1NSLC |
| PV063R1K1T1NUDR4545 | PV063R1K1T1NUDR |
| PV063R1K4T1NMMC4747 | PV063R1K4T1NMMC |
| PV080R1K1T1NMCC4747 | PV080R1K1T1NMCC |
| PV080R1K1T1NMMC4747 | PV080R1K1T1NMMC |
| PV080R1K1T1NMRK4747X5899 | PV080R1K1T1NMRKX5899 |
| PV080R1K1T1NUDR4545 | PV080R1K1T1NUDR |
| PV080R1K1T1NULC4747 | PV080R1K1T1NULC |
| PV080R1K1T1WMMC4747 | PV080R1K1T1WMMC |
| PV080R1K4T1NMMC4747 | PV080R1K4T1NMMC |
| PV092B9K1T1NX5861-45 | PV092B9K1T1NX5861 |
| PV092B9K1T1NX5863-45 | PV092B9K1T1NX5863 |
| PV092L1E1T1NMM14747X5972 | PV092L1E1T1NMM1X5972 |
| PV092L1K1T1NMMC4747 | PV092L1K1T1NMMC |
| PV092L1K1T1NMRK4747 | PV092L1K1T1NMRK |
| PV092R1K1T1N10047 | PV092R1K1T1N100 |
| PV092R1K1T1NMM14747 | PV092R1K1T1NMM1 |
| PV092R1K1T1NMMC4747 | PV092R1K1T1NMMC |
| PV092R1K1T1NMRC4747 | PV092R1K1T1NMRC |
| PV092R1K1T1NMRK4747 | PV092R1K1T1NMRK |
| PV092R1K1T1NSLC4747 | PV092R1K1T1NSLC |
| PV092R1K1T1NUCZ4747 | PV092R1K1T1NUCZ |
| PV092R1K1T1NUDR4545 | PV092R1K1T1NUDR |
| PV092R1K1T1VMMC4747 | PV092R1K1T1VMMC |
| PV092R1K4T1NMMC4747 | PV092R1K4T1NMMC |
| PV092R1K4T1NMMW4747 | PV092R1K4T1NMMW |
| PV092R4K1T1VUDR4747 | PV092R4K1T1VUDR |
| PV140L1K1T1NMMC4747 | PV140L1K1T1NMMC |
| PV140R1G8T1NYLC4747 | PV140R1G8T1NYLC |
| PV140R1K1T1NMFC4747 | PV140R1K1T1NMFC |
| PV140R1K1T1NMM14747 | PV140R1K1T1NMM1 |
| PV140R1K1T1NMMC4747 | PV140R1K1T1NMMC |
| PV140R1K1T1NMMC4747 | PV140R1K1T1NMMC |
| PV140R1K1T1NMMW4747 | PV140R1K1T1NMMW |
| PV140R1K1T1NMR14747 | PV140R1K1T1NMR1 |
| PV140R1K1T1NSLC4747 | PV140R1K1T1NSLC |
| PV140R1K1T1NTLC4747 | PV140R1K1T1NTLC |
| PV140R1K1T1NUDM4545 | PV140R1K1T1NUDM |
| PV140R1K1T1WMMC4747 | PV140R1K1T1WMMC |
| PV140R1K1T1WMR14747 | PV140R1K1T1WMR1 |
| PV140R1K4T1NMMC4747 | PV140R1K4T1NMMC |
| PV140R1K4T1NMR14747 | PV140R1K4T1NMR1 |
| PV140R1L1T1NMRZ4747 | PV140R1L1T1NMRZ |
| PV140R4K4T1NFDV4747 | PV140R4K4T1NFDV |
| PV140R9K1T1NMMC4747K0025 | PV140R9K1T1NMMCK0025 |
| PV180R1D1T1NMMC4747 | PV180R1D1T1NMMC |
| PV180R1K1T1NMFC4747 | PV180R1K1T1NMFC |
| PV180R1K1T1NMMC4747 | PV180R1K1T1NMMC |
| PV180R1K1T1NMMW4747 | PV180R1K1T1NMMW |
| PV180R1K1T1NSL14747 | PV180R1K1T1NSL1 |
| PV180R1K1T1NUDM4545 | PV180R1K1T1NUDM |
| PV180R1K1T1NUL14747 | PV180R1K1T1NUL1 |
| PV180R1K1T1VMM14747 | PV180R1K1T1VMM1 |
| PV180R1K1T1VULC4747 | PV180R1K1T1VULC |
| PV180R1K1T1WMMC4747 | PV180R1K1T1WMMC |
| PV180R9K1T1N2L14747K0524 | PV180R9K1T1N2L1K0524 |
| PV180R9K1T1NMFC4747K0373 | PV180R9K1T1NMFCK0373 |
| PV270R1K1T1N3CC4747 | PV270R1K1T1N3CC |
| PV270R1K1T1NMFC4747 | PV270R1K1T1NMFC |
| PV270R1K1T1NMMC4747 | PV270R1K1T1NMMC |
| PV270R1K1T1NMRC4747 | PV270R1K1T1NMRC |
| PV270R1K1T1WMMC4747 | PV270R1K1T1WMMC |
| PV270R1K1T1WMMW4747 | PV270R1K1T1WMMW |
| PV270R1L1T1N2LB4747X5943 | PV270R1L1T1N2LBX5943 |
| PV270R1L1T1VMFB4747 | PV270R1L1T1VMFB |