Optical angle encoder A170 is a wide-diameter solid shaft high-end encoder that produces up to 3.600.000 output pulses per revolution and can reach the accuracy of up to ±2.5 arc. sec.
We OstBridge is the official distributor of PRECIZIKA Encoders in China.
Features and Advantages:
Cost: Precizika encoders are typically more affordable, making them a more cost-effective choice for many applications.
Compact size: Precizika encoders are often smaller in size, making them a better choice for applications where space is limited.
High resolution: Precizika encoders typically offer higher resolution, which is important in applications that require very precise position sensing.
Wide range of products: Precizika offers a wider range of encoder products, including magnetic, optical, linear, and rotary encoders.
Customization: Precizika encoders can be customized to meet specific application requirements, such as special cable lengths or connectors, which can be beneficial in certain situations.
Structures: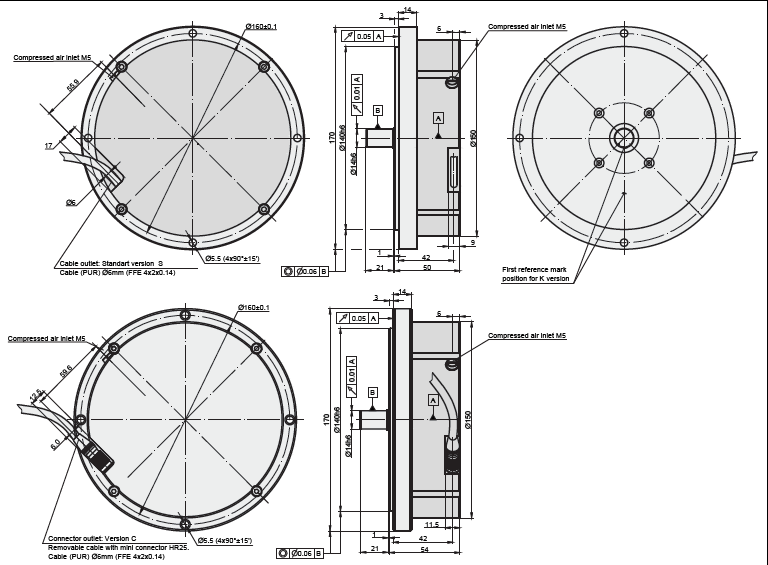 Mechanical data:
Number of output pulses per revolution

18000-3600000

Line number on disc (z)

18000; 36000

Reference signal

standard: 1 per shaft revolution




distance coded for z=18000: 36 per shaft revolution




distance coded for z=36000: 72 per shaft revolution

Permissible mech. Speed

≤ 1000 rpm

Max. operating speed

300 to 500 rpm

Accuracy grades

± 2.5 arc. sec

Permissible shaft load

≤ 30 N

Starting torque at 20°C

≤ 0.012 Nm

Rotor moment of inertia

< 3.7 x 10-4 kgm2

Protection (IEC 529)

IP64

Maximum weight without cable

3.5 kg

Operating temperature

0…+70°C

Storage temperature

-30…+85°C

Maximum humidity (non-condensing)

98%

Permissible vibration (55 to 2000 Hz)

≤ 100 m/s²

Permissible shock (11 ms)
Electrical data
Version

A170-A ∫ µApp

A170-AV ∫ 1 Vpp

A170-F Π TTL

Supply voltage

+ 5 V ± 5 %

+ 5 V ± 5 %

+ 5 V ± 5 %

Max. supply current (without load)

100 mA

120 mA

150 mA

Light source

LED

LED

LED

Incremental signals

Two sinusoidal I1 and I2




Amplitude at 1 kΩ load:




– I1 = 7 – 16 µA




– I2 = 7 – 16 µA

Differential sine +A / -A and +B / -B




Amplitude at 120 kΩ load:




– A = 0.6 – 1.2 V




– B = 0.6 – 1.2 V

Differential square-wave U1 / U1 and U2 / U2. Signal levels at 20 mA load current:




– low (logic "0") ≤ 0.5 V at Up =± 5V




– high (logic "1") ≥ 2.4 V at Up =±5V

Reference signal

One quasi-triangular I0 peek per revolution. Signal magnitude at 1 kW load:




– I0 = 2 – 8 µA (usable component)

One quasi-triangular +R and its complementary -R per revolution. Signals magnitude at 120 W load:




– R = 0.2 – 0.8 V (usable component

One differential square-wave U0 / U0 per revolution. Signal levels at 20 mA load current:




– low (logic "0") < 0.5 V at Up =± 5V




– high (logic "1") > 2.4 V at Up =±5V

Maximum operating frequency

(-3 dB) ≥ 160 kHz

(-3 dB) ≥ 180 kHz

160-2500 kHz (depends on interpolation factor)

Direction of signals

I2 lags I1 for clockwise rotation (viewed from shaft side)

+ B lags + A in clockwise rotation (viewed from shaft side)

U2 lags with U1 in clockwise rotation (viewed from shaft side)

Maximum rise and fall time

–

–

< 0.5 μs

Standard cable length

1 m; without connector

1 m; without connector

1 m; without connector

Maximum cable length

5 m

25 m

25 m
Order code
A170 – X1 – X2/X3 – X4 – X5 – X6/X7
Output Signal Version (X1)

Pulse Number per Revolution (X2)

Reference Signal (X3)

Cable or Connector Outlet (X4)

Cable Length (X5)

Connector Type (X6)

A




AV




F

18000




…




3600000*




*only F signal version for >36000 pulses

S – one per revolution




K – 36 per revolution, distance coded

S – version S (cable outlet)




C – version C (connector outlet)

AR01 – 1m




AR02 – 2m




AR03 – 3m




…

W – without connector




B12 – round, 12 pins




C9 – round, 9 pins




C12 – round, 12 pins




D9 – flat, 9 pins




D15 – flat, 15 pins




RS10 – round, 10 pins




ONC – round, 10 pins