We OstBridge is the official Distributor of PRECIZIKA in China.
PRECIZIKA A102H encoder is a high-precision rotary encoder manufactured by Precizika Metrology, a leading company in the field of position and motion control technologies.
The A102H encoder is a hollow-shaft encoder, which means that it can be mounted directly on a motor shaft or other rotating equipment. It features a high-resolution optical measuring system that provides accurate position feedback, with resolutions up to 20 bits (1,048,576 counts per revolution) and a maximum speed of 10,000 RPM.
The A102H encoder is designed to operate in harsh industrial environments, with rugged aluminum housing that provides protection against dust, water, and shock. It also features a wide temperature range and is resistant to vibrations and electromagnetic interference.
This encoder is commonly used in applications such as CNC machines, robotics, medical equipment, and printing presses, where precise motion control is critical.
Features and Advantages:
Structure: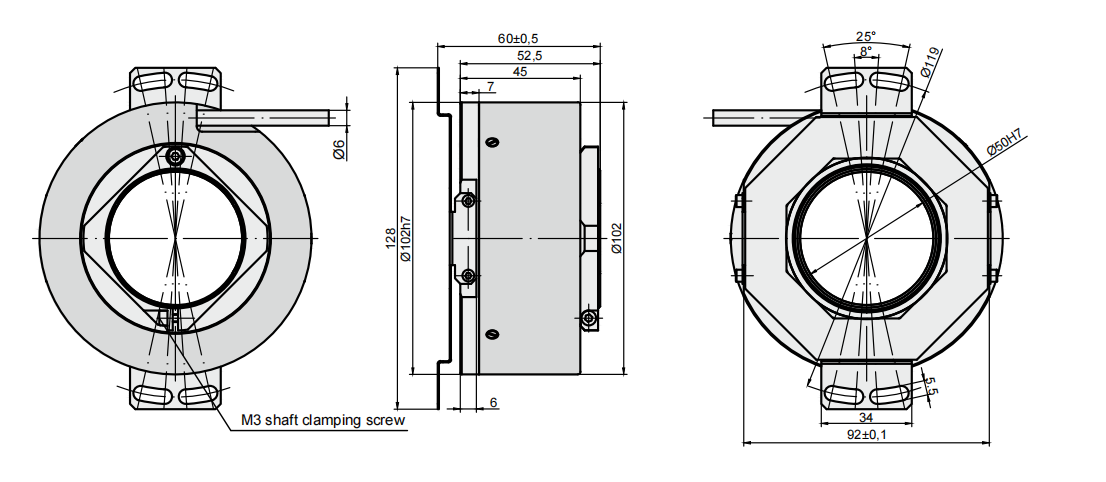 Mechanical Data
Line number on disc (z)

5000; 9000 (others on request)

Number of output pulses per revolution for A102H-F

Z x k, where

k=1,2,3,4,5,8,10, 20, 25,

50, 100 and others

(k - interpolation factor)

Maximum shaft speed

8000 rpm

Permissible motion of shaft:

- axial

- radial (at shaft end)

±1.0 mm

0.02 mm

Accuracy (T period of lines on disc in arc. sec)

±0.05T arc. sec

Starting torque at 20℃

≤0.01 Nm
Electrical data
Version

A102H-A ∫ µApp

A102H-AV ∫ 1 Vpp

A102H-F Π TTL; Π HTL

Supply voltage

+ 5 V ± 5 %

+ 5 V ± 5 %

+ 5 V ± 5 %; + (10 to 30) V

Max. supply current (without load)

100mA

120 mA

120 mA

Light source

LED

LED

LED

Incremental signals

Two sinusoidal I1 and I2




Amplitude at 1 kΩ load:




– I1 = 7 – 16 µA




– I2 = 7 – 16 µA

Differential sine +A / -A and +B / -B




Amplitude at 120 kΩ load:




– A = 0.6 – 1.2 V




– B = 0.6 – 1.2 V

Differential square-wave U1 / U1 and U2 / U2. Signal levels at 20 mA load current:




– low (logic "0") ≤ 0.5 V at Up =± 5V




– low (logic "0") ≤ 1.5 V at Up = 10 to 30 V




– high (logic "1") ≥ 2.4 V at Up =±5V




– high (logic "1") ≥ (Up – 2)V at Up = 10 to 30 V

Reference signal

One quasi-triangular I0 peek per revolution. Signal magnitude at 1 kW load:




– I0 = 2 – 8 µA (usable component)

One quasi-triangular +R and its complementary -R per revolution. Signals magnitude at 120 W load:




– R = 0.2 – 0.8 V (usable component

One differential square-wave U0 / U0 per revolution. Signal levels at 20 mA load current:




– low (logic "0") < 0.5 V at Up =± 5V




– low (logic "0") < 1.5 V at Up = 10 to 30 V




– high (logic "1") > 2.4 V at Up =±5V




– high (logic "1") > (Up – 2)V at Up = 10 to 30 V

Maximum operating frequency

(-3 dB) ≥ 160 kHz

(-3 dB) ≥ 160 kHz

(160 x k) kHz, k – interpolation factor

Direction of signals

I2 lags I1 for clockwise rotation (viewed from shaft side)

+ B lags + A in clockwise rotation (viewed from shaft side)

U2 lags with U1 in clockwise rotation (viewed from shaft side)

Maximum rise and fall time

–

–

< 0.5 μs

Standard cable length

1 m; without connector

1 m; without connector

1 m; without connector

Maximum cable length

5 m

25 m

25 m
Order code
A102H – X1 – X2 – X3/X4
Output Signal Version (X1)

Pulse Number per Revolution (X2)

Adapter Cable (X3)

Connector Type (X4)

A




AV




F

5000




9000




…




900000*




*only F signal version for >5000 pulses

AR01 – 1m




AR02 – 2m




AR03 – 3m




…

W – without connector




C9 – round, 9 pins




C12 – round, 12 pins




D9 – flat, 9 pins
ORDER EXAMPLES:
A102H-F-10800-AR01-C12